Now that Christmas is over I can tell you what we got/made for our family members!
We have a lot of family to buy for, which creates a budget problem each year. I've been pushing for name-drawing for years, but so far haven't convinced everyone that's a good idea. Until then, everyone gets something smallish, and everyone gets the same thing (or same type of thing). I'm nothing if not predictable. I think everyone knows by now to open presents from us around the same time.
For example: One year I bought everyone a book that was specialized to their interests. One year I got everyone a t-shirt (or shirt for people like my grandfather who doesn't wear t-shirts). One year we bought a cow for Heifer International in everyone's names. One year I made prints of everyone's home states (that present wasn't well-received. Whatever).
So this year we decided to try the Pinterest thing where you decorate a ceramic mug and bake it. I bought 22 of the same mugs and some oil-based Sharpie markers and Eriana decorated them over the course of a couple of months. Then we got locally-roasted coffee beans or tea (for the non-regular coffee drinkers or those without coffee pots) to go along with the mugs. I included a note in each package that the mugs would last longer if hand-washed. I think they will be okay if washed in the dishwasher, but wanted to put in a disclaimer in case a grumpy grandparent called in a couple of months requesting a new mug. I told Eriana who she was decorating for when she started one so she could make it special for that person. My only mistake in all of it was not starting early enough. There was a lot of bribery in the last few days before I needed to send them off because we had quite a few mugs left and Eriana really only wanted to decorate one or two per day.
There was also a lot of drawing on the protective paper, which is how I learned that Eriana is learning how to write.
That's a "BIIIIIG E", in case you were thrown by the many many horizontal lines.
One of a finished product, shamelessly stolen from a message from my SIL. (Sorry, Rach!)
I didn't get presents mailed out until Friday, December 20. I was really cutting it close. They were all supposed to be delivered by Christmas Eve, so I guess it worked out? I also paid my sister to check a bag full of presents to take back to Oklahoma instead of mailing the bulk of the presents to my family (Jim's family is spread across three states), and combined where I could to Jim's family members, depending upon who was spending Christmas with whom. Hashtag cheapo. (Don't worry, I don't speak in hashtags. I just like to type them. Or a semblance of them. Even when not on social media. Because I'm (not) cool.)
What did you get your extended family members for Christmas?
Today my baby is three.
I am hoping to make interviewing her a habit. She's been pretty camera shy lately, so a text interview will have to do:
What's your favorite animal? Zebra. (This is the first I've heard of this.)
What's your favorite color? Pink.
What's your favorite show? Dora.
What's your favorite toy? Dinosaurs. I have a lot of dinosaurs at my school.
Where do you live? Oklahoma. Now I live in Oregon.
What do you like to eat for a snack? Fruit snacks.
Do you have a favorite friend at school? Yeah, Gwynn.
What do you like to drink? Orange juice. (She requests a lot more milk, juice boxes, and water than orange juice.)
Where do you like to go? A restaurant.
What's your favorite restaurant? A pink restaurant. (She always requests this. We have no idea what she's talking about.)
What's your favorite thing to do? Play toys.
What's your favorite song? Spider-Man Pig.
Where do you want to go on vacation? I don't know.
What's your favorite outfit? Dinosaur jammies.
What are your favorite shoes? Black. (Black Converse.)
What do you want to be when you grow up? A butterfly.
She's pretty much the best thing I've ever made.
Clockwise from top left: birthday, one year, two years, three years.
My baby sister (whatever, she's 23, not a baby) came to Portland to visit! She brought her boyfriend! It was so much fun!
So my sweet sister K came to visit us and brought her boyfriend, MM, for us to meet. It was a lovely visit. They came in late Wednesday evening and left early Monday morning. Thursday we walked around Portland a bit, and they had dinner with some friends, Friday we walked around Portland a bit, then they came out to the 'burbs for dinner and to go to Eriana's school program with us. Saturday they spent the day with some friends and shopping, then we went to have dinner with them at Hot Lips Pizza. Sunday K and I got tattoos, and we had dinner with them at Deschutes.
Pictures!
Sisters at Hot Lips Pizza!
The ONLY picture I got of Eriana with K. Eriana was so super shy the whole weekend. 
My new tattoo. ("Don't worry. You're just as sane as I am." – Luna Lovegood, Harry Potter and the Order of the Phoenix)

K and MM. Cute, huh? Hopefully next time they come visit we'll have a guest room they can stay in so we can see them more often and Eriana will open up a bit more!
Right. So. Two weeks later!
Hi.
It's almost Christmas! I'm super excited about it. Here's what we're getting in our house:
Eriana:
A Kindle Fire HD.
Image from Amazon.
Look, I know no one's judging me, but since this is a sort of extravagant gift for a three year old: We got an AMAZING deal on this right before Amazon released the new one. She often wants to watch something on my Kindle, and loves to play games, and I am excited to subscribe to Kindle Free Time and see what that's all about. 
A bunch of books and comic books.
I, uh, sorta went crazy and got about 10 books and 8 or so comic books at the library book fair. I also bought some books at the book fair at her school. She has already been given one book from one of the book fairs, and about 4 comic books. 
A puzzle.
Image from Melissa and Doug.
Girl loves puzzles. Since they're educational, Jim will pretty much buy her any time she wants a new one. So she has a bunch. Unlike books, you can't find a lot of high-quality puzzles for cheap on the fly. So she's getting one I bought when I happened into Finnegan's with my sister and her boyfriend last weekend.
A doll plus some clothes and accessories for several of her dolls.
Image from Target.
It's one of the things she asked for.
A "vet" medical set, a "beauty" set, and a "tool" set from the dollar section at Target.
I mean, for $1 each she can have all three.
Jim:
I don't think Jim reads my blog, but I'm totally putting this disclaimer here:
HONEY. PLEASE STOP READING.
Okay. 
Jim's getting money. Whatever. I've been saving some money up in a special account for awhile, and it's been set aside so he can go visit his BFF or we can fly him in from Arkansas for a trip. We used to see them fairly regularly when we lived in Oklahoma, since they were a six-hour drive away (by regularly I mean every couple of months or so), but Jim's been really missing him lately. And they are now expecting a baby! So it may be awhile before he can come visit again unless he comes in the next few months.
I took Eriana to get a present for Jim and she picked this:
She may have been projecting an item she wanted. They can play with it together.
Me: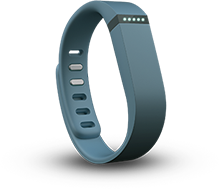 Image from fitbit.com.
I bought my own present. I told Jim what I wanted, but I go to Target a lot more often than he does, so I just bought it myself. He probably won't wrap it. That's fine. Easier access. I'm getting a FitBit Flex. (I thought about the Force, but beside the fear that I would be looking at it ALL DAMN DAY to check my progress, there were never any in stock when I had the coupons to make it cheaper.)
I don't know what Eriana is getting me. Can't wait to find out!
I'll blog about what we are giving our parents, grandparents, and siblings members after the holiday. Don't want to spoil it!
Me: You know what would be weird?
Jim: What?
Me: Being a time lord, and-
Jim: *laughing* And?
Me: Shh. And going from our present time, where people take showers daily and knowing all of this stuff that we have now, but going back in time and knowing it's all coming but for then people just stink.
Jim: Okay…
Me: It would just be weird to know everyone smells really bad.
Jim: …
Me: Whatever.
GIF from Doctor Who GIFs.
You guys. So last week wasn't that great for me. You all don't need to hear all about it. But I was down. I was sad. I was clumsier than usual. I was super crazy emotional. I cried a LOT. But by Friday I was… well, I was okay. And I think that's something.
On Tuesday I was sad and down and emotional, then I got pissed off and super indignant after listening to a podcast that was supposed to be funny. And it was! Mostly. But see, the guest, one of the hosts of the Nerdist podcast, Matt Mira, was talking about how he used to work at a funeral home, and how the hardest bodies to prep for burial were kids and young parents. He said that babies and old people didn't get him. At all. And many can probably understand why elderly people don't get as much sadness from a stranger, since strangers assume elderly people have lived a long life and, presumably, done much of what they wanted. But babies? Losing babies is a TERRIBLE, AWFUL thing.
You guys, I was PISSED. His reasoning, with which one of the two hosts agreed, was that those babies hadn't had the chance to live, to love, to experience life. They missed out on all of it in a good way. As for the parents, well, his assessment was that they could probably just make another kid if they wanted one, and that they didn't know the kid, so it probably wasn't that big of a deal.
So. Yeah.
Now. Before someone declares "OFF WITH THEIR HEADS", let me explain why and how it was a tiny bit helpful to me*. After several days worth of thinking about it, stewing over it, and being frustrated by it. These people? They aren't parents. And they are comedians. Matt Mira's only experiences with stillbirths or infant loss were from the perspective of his job at a funeral home, where he was faced daily with death**, and from the experience of his sister losing a child at seven months gestation. He spoke about this second experience to the extent that he noted his sister is mentally unstable, living off their parents, would have been a single mom, and the child probably would have had it really hard. I get that some people aren't meant to be parents. And he probably believes his sister to be one of them, so his version of events is skewed by his thoughts. And being, self-admittedly, quite desensitized to it, Matt Mira might not understand when people aren't, and not get it when people lose something they felt was irreplaceable.
I hate the phantom baby kicks right where Angel used to kick most, and I hate remembering my labor with her, the morning of her delivery, and the days after, especially holding her for the first time, just a little while after her birth and death, and holding her for the last, that awful day at the morgue. But what I mourn more than her actual physicality that I remember, is the idea of her. Wondering who she might have been, wondering what she might have done, and wondering what our life would be like now if we still had her. Looking back, I was COMPLETELY unprepared mentally for her arrival. I had no idea how to be a mom. It's still lots of on-the-job training, but I'm a better mom to Eriana having had the pain and loss in my life. I'm less clingy and hovering than I thought I'd be, and I'm more tough than I thought I'd be, but I'm better as a result of my pain***. And I probably wouldn't have Eriana now if Angel had survived. And living a life without the baby I lost, who I never really got to know, about whom I can only speculate as to her life, is much different than thinking about living life without the child I have been raising, who I see every day, who kisses me, hugs me, tells me she loves me, and smiles an amazing, intoxicating smile at me.
Of COURSE I don't think about death like Matt Mira, who has only been around infant death externally, who is desensitized to death in general, and who isn't a parent of any children. OF COURSE I miss Angel, and I reflect on what might have been. But for some reason hearing these people talk about this stuff made me feel a little bit better as I continuously thought about it all (what can I say? I'm a dweller). Who knows what Angel's life would have held? Would she have cured cancer, or might she have had a hard, difficult life? Would I have lost her later if not at her birth? Would I have lost Eriana? Would I even have Eriana now? What would have happened if we had stayed in Japan another year? Where would we be now? Would Jim and I be as happy as we are now if we'd never gone through something that forced us to reevaluate everything we knew, held dear, and then somehow hold together through a devastating experience?
It was a weird juxtaposition, going from complete indigence and anger to suddenly understanding, a little. I still don't condone talking about how infant death is a good thing, Matt Mira. And I know I will still have moments when I cannot stand from the pain of losing my first baby. But I do have a little bit more peace about the situation now than I have had in the last four years. Crass comedians, y'all. Who knew?
*To ME. Not to you. It doesn't have to make sense to you. Don't be mad at me if you're just pissed and don't get anything from it. Because we all interpret things differently, and always will. I get it. And you have EVERY right to your opinions and feelings, just as I do.
**I am NOT, by any means, saying that everyone who works around death is desensitized to it, nor am I saying that death does not affect everyone who works around it or that a parent who works in a hospital or a funeral home would not be sad if they lost a child. Every situation is different, and every person processes each situation with which they are presented differently. I have heard Matt Mira say several times that he has been desensitized to death and that is different from every perspective and differs between every person.
***Not saying this is how it would happen if you were to have a similar experience with loss. I, personally, am better. Not necessarily you.
I didn't complete NaBloPoMo, but look at this picture of my kid!
Dancing to no music in Target, wearing leggings as pants, and a sweater from the 80s. I'd say she's a Portland Hipster now.
I've been trying to find peace for… four years. I really want to get over the hurt and the pain. But I am not there yet. Jim is working this year, for the first time on the 27th since before The Worst Day. I am trying to keep busy and not fall apart.
I want to find peace because I don't want to harp on bad things.
I want to find peace because I have so many wonderful blessings in my life.
I want to find peace because there are so many things going on in the world that affect so many others and I feel selfish for being so sad, four years later.
I want to find peace because I don't want to be sad anymore.
I want to find peace because I have so many people in my life who haven't been able to conceive, let alone carry two children to term and get pregnant a third time without even trying.
I want to find peace because I have friends with sweet babies or who are pregnant and I don't want to be the sad, cynical lady who causes them to doubt whether or not their children will survive labor.
I want to find peace because… just because I feel like I deserve it.
My life is so good. I'm so very happy a grand majority of the time. I love my husband beyond measure, and I know he still loves and respects me, more than 11 years into this relationship and 13 into our friendship. I love my sweet Eriana beyond what I could ever explain. We have enough of everything we need, plus a large majority of the things we want. We have a home, we have an income, we have so much love.
But. But. But.
But my arms and my heart ache every day for the little girl I got to hold and kiss but never hear cry or feel move in my arms. And I don't have the peace I so desperately crave yet. Maybe next year.
Well. This is a weird thing to talk about this week. But I was in tears listening to a VERY funny podcast this morning during a segment where the hosts and guest were talking about dogs (I think the dog discussion starts about 18:10 or so; the discussion starts because she's talking about Glade plug-ins changing their system). I have several friends who are thinking about getting dogs going through the dog adoption process right now, so I thought I'd share some thoughts about our mutts.
Jim always had dogs growing up. Inside/outside dogs that were part of his family. I did not. Well, sort of. For some reason it's kind of a thing for some people to have "outside only" dogs, and now that I'm a dog owner I don't get it, especially in Oklahoma where it gets upward of 100 degrees for most of most summers and freezes daily during the winter (terrible weather in Oklahoma. Don't go there). But that's what my family had. At my mom's house we had several dogs, 2-3 at any given time. They were always outside-only dogs, even when we had a shih tzu and a chihuahua. At my dad's house we had indoor-outdoor dogs once my dad and his wife moved to the country, so I was in high school and didn't really have a lot to do with those dogs. I was always sort of afraid of dogs because when I was little a very lick-happy dog at my grandparents' house (who were also outdoor dog people) licked my face. Scared me. My parents thought it was funny.
ANYWAY.
When Jim and I got married and moved to Altus we wanted dogs. We went to the shelter and adopted two that were from the same litter. Sweet puppies we named Allie and Blue. They wound up with some super severe skin issues we didn't have the money to take care of. Also we were both working fairly long hours and didn't think it was fair to them that they have to stay outside all the time, but the skin issues caused them so much pain and took so much of their attention away from everything else that they weren't good at housetraining. I took them back to the shelter.
We adopted another dog, a chihuahua-corgi mix named Chloe. She was inside most of the time, since she was little, and she was older and "house trained", but no matter what we did she ALWAYS pooped in the house. Always. Jerk. We'd take her outside and she'd pee, and poop, then come inside and poop again. AGH. When we moved to Japan we gave her to my mother-in-law, and she ran away and was never seen again.
I promise this story is not about us being terrible people/pet owners.
When we moved back to Oklahoma from Japan we were in desperate need of some happy in our lives. Dog! Therapy dog! We stayed with my dad for about a month, and he had two dogs at the time. The weekend before we closed on our house we were on base at Tinker and I saw that the PetSmart (PetsMart?) across the main street from one of the base gates was having an adoption fair. I talked Jim into going, and 20 minutes later I was calling my dad to make sure it was okay for us to bring back a dog (the rescue was going to keep him till we moved into our house the next week if Dad said no). I saw this beautiful, sweet dog in a crate near the entrance. There was a matching dog in the crate next to him barking like CRAZY, but this dog was calmly sitting, looking at his brother like, "WTF, Dude? Shut up!" I knew he would be great. And he is!
Sweet sweet sweetie boy Rubeus. Wow, my carpet needed to be vacuumed.
He was AWESOME. He proved to be excellent therapy for Jim, and for me. He got along well with our cat, and was wonderful. Is wonderful. About three months later we decided he needed a friend. So we did some research, and thought we wanted a beagle. We made an appointment with a Beagle rescue near our city, and took Rubeus along so we could see which dogs he played well with, which ones he didn't, etc. Spoiler: we didn't get a beagle. There were two dogs he primarily played with that long (long, LONG) day at the rescue: a pit bull mix and a dalmatian-boxer mix. The pit bull was not cat friendly. We already had Sakana, since we'd brought her back from Japan, so that was a deal breaker. So we took the other boxer mix with us.

Cutest ugly dog in the world.
We renamed her Raisele. She's very… energetic. The rescue people told us she was aggressive. And that she was about a year old. She is not aggressive, not toward people. She doesn't like other dogs, except for Rubeus, but is fine with cats. (She is SO protective of Eriana, and gets indignant (and barks or whines) when people dare to walk on the sidewalk in front of our apartment. When she saw Eriana going to pet another dog one day while we were outside she nearly pulled off of her leash. So protective.) She is the happiest dog ever, and her whole butt shakes when her tail wags, which is pretty much constantly. She was also about four years old when we got her, not one.
Now. This post isn't just to tell you how wonderful dogs are, even though they are. And it's not to just show you how great they can be with kids, even though they can be.
Look at tiny Eriana with the bad mullet! (June 2012)
Dogs can also be a pain in the butt. They are EXPENSIVE. Every month I spend about $50 on preventative meds so our dogs don't get fleas. When they did get fleas I spent HUNDREDS of dollars on treatment, cleaning supplies, etc. etc. etc. Not cool. Once our dogs were wrestling and Rubeus's jaw caught on Raisele's collar and he almost choked her to death. Awesome. (Sorry about the weird errors in that post. Something happened when I transferred from WordPress hosting and I haven't fixed every post yet.) A couple of months ago Raisele caught a toenail on her crate and nearly pulled it out, costing us many many dollars on a surgery to remove the claw and then rehab and treatment. When we go out of town we have to pay a dog sitter/walker. When I start working full time we'll probably have to pay a dog walker. Before we moved from Oklahoma we had to have our backyard leveled and re-sodded because of the holes the dogs dug all over the place. We also had to have the living room repainted because there was a lot of dirt (including paw prints) and stains from dog-caused spills on the walls, plus a couple of holes where the dogs, for some reason, carved out a hole and licked almost through the drywall. We also will have furniture to replace when we get a bigger house because the dogs chewed on a bunch of it. Including a whole corner off the bottom of our buffet. Oh, AND. When we moved Rubeus was so stressed that he started peeing AND pooping in the house. That was fun.
But look how sweet! (March 2013)
Oh, and. Since we have two cats AND two big dogs, finding a rental home is a PROBLEM. You just think you're going to be in your current home forever/be able to sell your house when you need to and buy a new one immediately. Things might change. I think we talked to, I think, eight apartment complexes before we found one willing to bend the rules to let us have four pets.
So in summary: Dogs are awesome but also sometimes suck. Aren't you glad I cleared that up for you?
I'm trying to stay positive and busy this week, because if I don't, if I don't make myself get up to do things I have to and put one foot in front of the other and breathe in and out and focus on my life around me I will just collapse into the fetal position and cry until I sleep then wake up and do it all over again.
I have a ton of school work that I sort of held off really focusing on until this week so I would have something to focus on. (Of course Eriana was running a fever last night and is home from school today, (SHE'S FINE, MOM) so that worked out well. NOT.) Wednesday Jim wanted to work, which he hasn't done on the 27th since before 2009, because he didn't just want to sit around and be sad this year. I get it. Eriana's school is having a holiday luncheon and a "production" on Wednesday, which I know involves the toddler class wearing paper vests and headbands with paper feathers. I volunteered to help set up so I don't have to be home alone that morning.
I planned for a big, unconventional-meets-traditional Thanksgiving dinner because we are just doing Thanksgiving the three of us at home and I didn't want to cook a turkey or do all of that stuff. Thanksgiving is not my favorite holiday, especially since the Worst Day usually falls this week and I have terrible, terrible memories of being in labor on Thanksgiving in 2009. So here is our Thanksgiving menu for this year, and I'm actually really excited about cooking on Thursday.
-Turkey and Cranberry Enchiladas
-Homemade Green Bean Casserole
-Slow Cooker Jalapeno Cream of Corn
-Crescent rolls with garlic butter
-Pumpkin Bread Pudding (I cut the recipe from a coupon circular, so I have no link)
-Chocolate Kisses Peanut Butter Cookies
-For breakfast I will make cinnamon rolls, and for lunch I'll defrost and cook something we already have in the freezer.
Hopefully Thursday we can do something fun as a family. If it's nice we'll probably go on a "nature walk" in the preserve that backs up to our complex. Just because it's fun and will get us out of the house. If the weather turns dark we can just hunker down and watch Christmas movies, I think. Friday Jim will go back to work, and I'll probably take Eriana to school, unless by some miracle I finish my homework before then.
I'm really excited about Jim's birthday, which is a week from Wednesday, and then my sister's visit to Portland, then Eriana's birthday, then Christmas.
Just keep moving. Just keep going.
GIF from PhotoBucket.
« previous page
·
next page »