A few days ago Jennie asked on Twitter:
If you could choose to do anything for a living, what would you do?

— Jennie Canzoneri (@shelikespurple) February 1, 2014
And I answered: College professor or corporate trainer.
I'm still unsure if I'd like to go back to school for my PhD. If I do that, I'm determined to be a college professor. If I want to stay in the private sector, though, and my already RIDICULOUS student loans have me leaning that direction, I am thinking corporate training and development is what I'd like to do. I never thought about that as a career, until I was job searching and asked a lovely friend with an HR background for help with my resume and job search. She mentioned she thought I'd be great at that, and it hit me that I might.
Shortly after that I went to a meeting for the local chapter of ATSD, and talked to people who work in training and development at a number of companies around here. One guy said that a good way to get into training and development is to work in a call center. Lucky me, the first job I got offered was in just that. So now, a month into my job, I'm hopeful that someday I can reach my (newish) goals. It's not exactly International Relations or Library and Information Studies, but it is a way to utilize the people skills my degree in IR helped me to develop, and for me to be organized and work with people in a helpful way, as was my goal with working in LIS. Plus I would get to teach and train people, so it's sort of along the lines of teaching adults in higher ed. But they might pay more attention since they'll be getting paid to be there. Also, I always really liked writing continuity and training stuff in my past jobs. Sometimes I did it for fun!
Anyway, we'll see what happens. At this point I need to work at my job for a while, network appropriately, prove myself a good worker to those managers and other higher-ups who are interested in that sort of thing, and then look to the future.
I like my job just fine, but I am not interested in it being my job forever. To each their own, right? It may be just the job someone wants long-term, but that someone isn't me. I'm interested in reaching my goals. I'm interested in contributing more to my family financially than my current position will allow me to. I'm interested in utilizing my education in my career. I'm interested in having a career, and I don't think my current job is my long-term career.
Angling for a career as a cute professional puzzle-putter-together.
What are your hopes and dreams?
So now that we have two incomes, it's time to buckle down on our finances. Here's our (loose) plan:
Snowball our debts, excepting our house in Oklahoma and our student loans (for now). We have a plan now, and our debt has an end in sight. We will put more focus on student loans and the house (if still owned) when the other debts are paid.
Save a specified amount of money each month.
Save weekly into a special account for gift-giving, travel, special costs, etc., graduating the number each week (like this, except we increased the numbers a bit this year).
Stick to our budget. We made a budget that outlines most of our finances, but still gives us a little wiggle room in case we have emergencies.
Our primary concerns are concerning unnecessary spending, such as too much dining out, too much Starbucks, too many daily t-shirts, too much on-sale jewelry, etc.
It won't be easy, for sure, but I know we can do it. We have before!
Of course, getting Eriana into a good private school that won't make us go broke will be quite difficult. But we'll cross that bridge when we get there (which, HA, will be sooner than we think, since she only has three years left at Montessori!). The hope is that by then I'll be making a bigger salary and we'll be able to handle it. Because, Y'ALL. Private school is expensive.
Almost one year old, playing with Jim's wallet.
And here's a more recent one, just because she's cute. Out for brunch with Daddy last weekend while I worked. Spending money on Daddy dates.
(What a way to make a living!)
I got a job.
(Did I not tell you that? Oh, sorry. Whatevs. I got a job. At Jim's company, actually. But we don't work together. He's up on the third floor with the fancy people.) (He hates that joke.)
So I'm working for a logistics company. I just started my third week. I am working in the call center, which is, basically, a lot of talking to people on the phone. I call companies and talk to their employees, ask for information, collect information, and then my company monitors it. It's fine. I'm learning a lot. I'm getting some good information about the business world. I'm learning how to communicate effectively with adults again. I'm getting over my phone phobia in an instant immersion-type of way.
Plus at least once a day I get to see my sweet husband and usually I get to give him a hug or a kiss or both. (Lucky for me we only have one key to my car and one car seat.)
Right now my schedule is fairly normal-business-hours, and it's worked out that Jim takes Eriana to school, and I pick her up. I joined a gym and I've been able to workout before work, so it's been good! The future plan is for me work SUPER early, and then workout after work, and then pick Eriana up at a more reasonable hour. (I say reasonable, but really she's fine. She's at school for less than eight hours per day, and the limit is nine at her school. Plus it's not too bad for a kid with two working parents. I know a lot of kids are at school for an entire workday because their parents' schedules aren't flexible. Jim's is super flexible: as long as he gets his work done and works reasonably close to 40 hours per week (usually it's many more than that), he can come and go when he needs to, or even work from home. Since I won't have vacation/sick time for a little while and things are a little more structured in a call center environment, it's nice that Jim's schedule can be flexible when mine can't, in case our kid needs to stay home or something.)
My coworkers are nice, and my team leads/managers are really helpful and kind. My schedule is super structured, and that's taking more time that I thought it would to get used to, but seeing as how I haven't worked in an office for about 2.5 years, and I was a SAHM and/or grad student during that time which doesn't take any clocking in or out and allows for going to the bathroom, getting coffee, or tweeting whenever I feel like it, it's really no surprise that it's taking some getting used to.
But! It's a job.
Things I learned when job hunting:
It sucks.
You have to know someone.
Some money is better than no money, so don't worry about your price so much, especially if you're not coming in with a lot of experience.
Education doesn't count as experience, even if it should.
It's hard to find a job in your field, and it makes for a really narrow scope.
Business casual means very different things from employer to employer.
Tattoos aren't a problem in Portland. At all.
Working with your husband can be fun (although I wouldn't want to work *with* him, because I have a feeling he's a hardass as a boss).
Keep an open mind.
Soon I'll write a post about how exhausting it is to be a working mom. But I'm too tired right now.
Smile really pretty for me. (That's her tongue on her top teeth, she doesn't have enormous gums.)
Here's a link to all of my books for this year! I made it to (and then I passed) my goal!
(Since I write these from the bottom up they may not make sense if I read several books in a series or reference something later in a review. Perhaps I should switch them around? Let me know if this bugs you?)
I finished my reading goal! Last quarter. I had some real duds in 2013, but I'm glad I was able to make it to my goal among everything else that happened (grad school, cross country move, toddler, etc.).
67. Wildwood (Wildwood Chronicles #1) by Colin Meloy. This book  was lovely. And the artwork was incredible. The story takes place in the woods outside of Portland, which is super near where we live. A beautiful book. A YA book, though, so a series I'll probably wait to finish until Eriana is bigger and we can read it together.
66. World War Z: An Oral History of the Zombie War by Max Brooks. I read this for a book club I was in, and I liked it! Good imagination. ZOMBIES. I liked the mix of government, military, civilian, and people from all over the world.
65. Life of Pi by Yann Martel. Oh, how I tried to love this book. I tried to read it at least three times, and wound up listening to it. Meh. It was okay. But I didn't like it that well.
64. A Game of Thrones (A Song of Ice and Fire #1) by George R. R. Martin. I won this book in a giveaway from Ginger, and it was SO good, y'all. SO GOOD. I was thrilled and enthralled. It was hard to keep every character straight, but I got it by the end. I'll be excited to read more in the series.
63. Someday, Someday, Maybe by Lauren Graham. I wanted SO MUCH to love this book. I liked it okay, but I didn't love it. Lauren Graham (a.k.a. Lorelai Gilmore/Sarah Braverman, in case you aren't sure of her *real* name) said on her Nerdist podcast that she had sold it as a series on the CW network, and I do love me some teen tv shows, so I'll be excited to see that. The book was alright, y'all. The editing was spotty, and the story was a little iffy, but it was okay.
62. Attachments by Rainbow Rowell. Rainbow Rowell is so great. I still want her to be my best friend. This book was lovely. Just lovely. Fangirl is still my favorite of hers, but this book really hit me in a good place.
61. Lost and Found by Chris van Hakes. Oh, guys. OH GUYS. My excellent and awesome friend wrote this book. MY FRIEND WROTE A BOOK. And it's GRRRREEEEAT. Like Tony the Tiger great. Go buy it. Support her. Read it.
60. Not Exactly a Love Story by Audrey Couloumbis. Oh my goodness. A ridiculous book. But I liked it!
59. Stargirl #1 by Jerry Spinelli. This book was recommended by a friend and I'm SO glad she told me about it. So great. I listened to the audio book, which was read by John Ritter (sad), but it was a great great book about love and identity. I'm not sure if I'll read the rest of the series right away, but it's a good series to add to my queue.
58. The Great Typo Hunt: Two Friends Changing the World, One Correction at a Time by Jeff Deck and Benjamin D. Herson. This book. It's hilariously awesome. Every grammar-nerd's dream come true. A little slow at times, but it's also a story about true life and that lags sometimes.
So last year I didn't actually complete all of my goals. That's okay! They're goals, not musts. I'd still like to do better in 2014!
This year I want to:
Read 75 books
Find a church
Run a half marathon
Fulfill our realistic financial goals for the year (it's good to be realistic)
Go away for a weekend with Jim
Spend a family weekend in Seattle or Vancouver
Go to The Blathering
Work out at least half of each month
Do well at my job
Find a new, hopefully slightly larger, home in the fall (probably – sooner if we can't extend our lease)
Make the most of my time with my favorite weirdos
2013! Let's recap this bi…zness!
(As always, shamelessly copied from Linda at
All & Sundry
. Though this year I went back to the beginning to capture all of the questions that have fallen off over the years.)
1. What did you do in 2013 that you'd never done before?
Moved to Oregon. Listed a house. Became a landlord.
2. Did you keep your new year's resolutions, and will you make more for next year? 

Some of them! Some were based on the idea that we would still be in Oklahoma, and moving changed a lot! I did: read 50+ books; got Jim a really fun present for his 30th, but we didn't do anything for his birthday; I finished my (second) graduate degree!; Eriana started at Montessori; spent most weekends with my family, doing fun things together; ate more real foods and less crap; potty trained Eriana; went to The Blathering; worked out fairly regularly, most months; spent a LOT of time with my loves.
I did not: read my Bible more; apply/get into a doctoral program – decided to pursue other things for awhile; run a half marathon; pay off our credit card debt or Jim's student loans; go on family vacation for our 10th anniversary (we had just moved!).
3. Did anyone close to you give birth?
Some LOVELY friends in Oklahoma had beautiful babies while we were still living there, including one of my favorite friends, who I've known since first grade. Some other Okie ladies were pregnant when we left and have since had babies, and several online friends had babies. But no one who I know here has had any. Although one of my local friends is pregnant! Looking forward to squeezing a sweet baby next summer!
4. Did anyone close to you die?
No, thank the heavens.
5. What countries did you visit?
South Carolina? No, none. No countries other than the one of which I'm a citizen. I only travelled to Oregon and back to Oklahoma, to Washington a few times from Oregon, and to North/South Carolina this year.
6. What would you like to have in 2014 that you lacked in 2013?
A waist sans muffin top.
7. What dates from 2013 will remain etched upon your memory, and why?
May 29 – the day we moved to Oregon. July 26 – our 10th wedding anniversary.
8. What was your biggest achievement of the year?
Not completely losing my mind during our move (although it was close).
9. What was your biggest failure?
Not keeping up with working out as well as I'd hoped.
10. Did you suffer illness or injury?
Nope.
11. What was the best thing you bought?
My iPhone, I think. I love it.
12. Whose behavior merited celebration?
Jim's. That man deserves sainthood.
13. Whose behavior made you appalled and depressed?
People who called themselves Christians but made it EXTREMELY difficult for people to believe in God by the hypocrisy, anger, fearmongering, and lies they spread about the love of Christ, the bible, and the world.
14. Where did most of your money go?
Moving. Mortgage/Rent.
15. What did you get really, really, really excited about?
Moving to Oregon. Eriana being so awesome. Getting to be married to Jim day after day.
16. What song will always remind you of 2013?
Hm. The cups song from Pitch Perfect? Man, that song was overdone, huh? Just let Anna Kendrick do her thing, y'all!
17. Compared to this time last year, are you:
a) happier or sadder? Happier.
b) thinner or fatter? Fatter.
c) richer or poorer? Poorer.
18. What do you wish you'd done more of?

Laughed.
19. What do you wish you'd done less of?
Fretted.
20. How will you be spending Christmas?
Christmas was at home with my loves. And it rocked my socks off.
21. Did you fall in love in 2013?
With Oregon, yes. Gosh, I love it here.
22. How many one-night stands?
Let's see… carry the two, multiply by… 3… zero.
23. What was your favorite TV program?
Toss up here. I watched and loved Charmed and of COURSE I adored Doctor Who, and how can you leave out the end of The Office, or the amazingness of Parks and Rec? There was a lot of good this year.
24. Do you hate anyone now that you didn't hate this time last year?
I don't think so? Not directly? I hate a lot of things that happened, and the way people caused them, but not people. There's no sense in that.
25. What was the best book you read?
Fangirl by Rainbow Rowell. Good LORD. Loved it.
26. What was your greatest musical discovery?
Podcasts? Not music. But I discovered how awesome podcasts are.
27. What did you want and get?
Out of Oklahoma.
28. What did you want and not get?
A buyer for our house in Oklahoma.
29. What was your favorite film of this year?
Pitch Perfect. I know it was a  2012 movie, but I didn't see it till 2013, and I loved it.
30. What did you do on your birthday, and how old were you?
I was 31! Jim baked me a cake and I spent the evening with my loves.
31.What one thing would have made your year immeasurably more satisfying?
More money.
32. How would you describe your personal fashion concept in 2013?
Mom grad student. (Comfy, presentable for going out in public but still a little messy.)
33. What kept you sane?
Jim. Zoloft.
34. Which celebrity/public figure did you fancy the most? 
Hmmmm. Chris Hardwick? Maybe not in a crush-type fancy, though. I did a lot of googling of him after listening to so many Nerdist podcasts.
35. What political issue stirred you the most?
Same-sex marriage. Women's rights. Equal for those.
36. Who did you miss?
Some members of my family. My Oklahoma friends.
37. Who was the best new person you met?
Lindsay! (I already "knew" Rhiannon and HJ before I moved to Oregon, or there would be a three-way tie.) I am so damn thankful to have met Lindsay and Neil. Eriana plays well with their daughter, Jim and Neil talk about geek stuff and beer, and Lindsay is just a great person and friend. I'm so looking forward to getting to know them even more!
38. Tell us a valuable life lesson you learned in 2013.
Home is where the heart is. (SHUT UP I KNOW IT'S CHEESY.) Seriously. We've had to make a lot of adjustments moving here, both financially and at home and with our time, but it's all been worth it. Oregon is where we are at home. And you know that cheesy country song "Love Grows Best in Little Houses"? It's kinda true. (At least for people. Our animals drive me BATTY in such a small house.) I love Jim and Eriana more than ever.
39. Quote a song lyric that sums up your year.
"We had a great day! It was a super way to spend some time together!"
Fresh Beat Band's "Great Day"! Shut it. It's a good lyric. And a good message.
Previous years' questionnaires:
Now that Christmas is over I can tell you what we got/made for our family members!
We have a lot of family to buy for, which creates a budget problem each year. I've been pushing for name-drawing for years, but so far haven't convinced everyone that's a good idea. Until then, everyone gets something smallish, and everyone gets the same thing (or same type of thing). I'm nothing if not predictable. I think everyone knows by now to open presents from us around the same time.
For example: One year I bought everyone a book that was specialized to their interests. One year I got everyone a t-shirt (or shirt for people like my grandfather who doesn't wear t-shirts). One year we bought a cow for Heifer International in everyone's names. One year I made prints of everyone's home states (that present wasn't well-received. Whatever).
So this year we decided to try the Pinterest thing where you decorate a ceramic mug and bake it. I bought 22 of the same mugs and some oil-based Sharpie markers and Eriana decorated them over the course of a couple of months. Then we got locally-roasted coffee beans or tea (for the non-regular coffee drinkers or those without coffee pots) to go along with the mugs. I included a note in each package that the mugs would last longer if hand-washed. I think they will be okay if washed in the dishwasher, but wanted to put in a disclaimer in case a grumpy grandparent called in a couple of months requesting a new mug. I told Eriana who she was decorating for when she started one so she could make it special for that person. My only mistake in all of it was not starting early enough. There was a lot of bribery in the last few days before I needed to send them off because we had quite a few mugs left and Eriana really only wanted to decorate one or two per day.
There was also a lot of drawing on the protective paper, which is how I learned that Eriana is learning how to write.
That's a "BIIIIIG E", in case you were thrown by the many many horizontal lines.
One of a finished product, shamelessly stolen from a message from my SIL. (Sorry, Rach!)
I didn't get presents mailed out until Friday, December 20. I was really cutting it close. They were all supposed to be delivered by Christmas Eve, so I guess it worked out? I also paid my sister to check a bag full of presents to take back to Oklahoma instead of mailing the bulk of the presents to my family (Jim's family is spread across three states), and combined where I could to Jim's family members, depending upon who was spending Christmas with whom. Hashtag cheapo. (Don't worry, I don't speak in hashtags. I just like to type them. Or a semblance of them. Even when not on social media. Because I'm (not) cool.)
What did you get your extended family members for Christmas?
Today my baby is three.
I am hoping to make interviewing her a habit. She's been pretty camera shy lately, so a text interview will have to do:
What's your favorite animal? Zebra. (This is the first I've heard of this.)
What's your favorite color? Pink.
What's your favorite show? Dora.
What's your favorite toy? Dinosaurs. I have a lot of dinosaurs at my school.
Where do you live? Oklahoma. Now I live in Oregon.
What do you like to eat for a snack? Fruit snacks.
Do you have a favorite friend at school? Yeah, Gwynn.
What do you like to drink? Orange juice. (She requests a lot more milk, juice boxes, and water than orange juice.)
Where do you like to go? A restaurant.
What's your favorite restaurant? A pink restaurant. (She always requests this. We have no idea what she's talking about.)
What's your favorite thing to do? Play toys.
What's your favorite song? Spider-Man Pig.
Where do you want to go on vacation? I don't know.
What's your favorite outfit? Dinosaur jammies.
What are your favorite shoes? Black. (Black Converse.)
What do you want to be when you grow up? A butterfly.
She's pretty much the best thing I've ever made.
Clockwise from top left: birthday, one year, two years, three years.
My baby sister (whatever, she's 23, not a baby) came to Portland to visit! She brought her boyfriend! It was so much fun!
So my sweet sister K came to visit us and brought her boyfriend, MM, for us to meet. It was a lovely visit. They came in late Wednesday evening and left early Monday morning. Thursday we walked around Portland a bit, and they had dinner with some friends, Friday we walked around Portland a bit, then they came out to the 'burbs for dinner and to go to Eriana's school program with us. Saturday they spent the day with some friends and shopping, then we went to have dinner with them at Hot Lips Pizza. Sunday K and I got tattoos, and we had dinner with them at Deschutes.
Pictures!
Sisters at Hot Lips Pizza!
The ONLY picture I got of Eriana with K. Eriana was so super shy the whole weekend. 
My new tattoo. ("Don't worry. You're just as sane as I am." – Luna Lovegood, Harry Potter and the Order of the Phoenix)

K and MM. Cute, huh? Hopefully next time they come visit we'll have a guest room they can stay in so we can see them more often and Eriana will open up a bit more!
Right. So. Two weeks later!
Hi.
It's almost Christmas! I'm super excited about it. Here's what we're getting in our house:
Eriana:
A Kindle Fire HD.
Image from Amazon.
Look, I know no one's judging me, but since this is a sort of extravagant gift for a three year old: We got an AMAZING deal on this right before Amazon released the new one. She often wants to watch something on my Kindle, and loves to play games, and I am excited to subscribe to Kindle Free Time and see what that's all about. 
A bunch of books and comic books.
I, uh, sorta went crazy and got about 10 books and 8 or so comic books at the library book fair. I also bought some books at the book fair at her school. She has already been given one book from one of the book fairs, and about 4 comic books. 
A puzzle.
Image from Melissa and Doug.
Girl loves puzzles. Since they're educational, Jim will pretty much buy her any time she wants a new one. So she has a bunch. Unlike books, you can't find a lot of high-quality puzzles for cheap on the fly. So she's getting one I bought when I happened into Finnegan's with my sister and her boyfriend last weekend.
A doll plus some clothes and accessories for several of her dolls.
Image from Target.
It's one of the things she asked for.
A "vet" medical set, a "beauty" set, and a "tool" set from the dollar section at Target.
I mean, for $1 each she can have all three.
Jim:
I don't think Jim reads my blog, but I'm totally putting this disclaimer here:
HONEY. PLEASE STOP READING.
Okay. 
Jim's getting money. Whatever. I've been saving some money up in a special account for awhile, and it's been set aside so he can go visit his BFF or we can fly him in from Arkansas for a trip. We used to see them fairly regularly when we lived in Oklahoma, since they were a six-hour drive away (by regularly I mean every couple of months or so), but Jim's been really missing him lately. And they are now expecting a baby! So it may be awhile before he can come visit again unless he comes in the next few months.
I took Eriana to get a present for Jim and she picked this:
She may have been projecting an item she wanted. They can play with it together.
Me: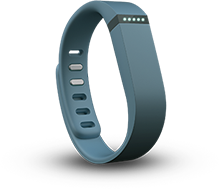 Image from fitbit.com.
I bought my own present. I told Jim what I wanted, but I go to Target a lot more often than he does, so I just bought it myself. He probably won't wrap it. That's fine. Easier access. I'm getting a FitBit Flex. (I thought about the Force, but beside the fear that I would be looking at it ALL DAMN DAY to check my progress, there were never any in stock when I had the coupons to make it cheaper.)
I don't know what Eriana is getting me. Can't wait to find out!
I'll blog about what we are giving our parents, grandparents, and siblings members after the holiday. Don't want to spoil it!
« previous page
·
next page »