The other day I asked my Twitter followers if they had best friends, specifying that I meant a best friend outside of a spouse/significant other or a sibling. The overwhelming majority said yes, indeed, they did, but the majority who expounded said they lived geographically far away from their best friend(s). I got to thinking about this because I spent the day in Olympia with one of my favorite friends, a girl who I have been close to, on and off, since 7th grade. We can always pick up where we left off, and have a great time together. Her son was born the day after Eriana, and I am SO excited she and her family are just a few hours away.
But.
She isn't my best friend. She never really was. Even if part of high school I considered her to be one of my best friends, I was never really hers. There was always someone else to whom she was closer. And I get that! It's fine. Another close friend in high school was someone I considered my best friend, but I was "one of" hers. She had another best friend who was pretty protective of that title. Another thing I get. My best friend in high school was a guy, a guy on whom I secretly harbored a crush for most of our friendship. When we finally decided to try a relationship past friendship our friendship fell apart. And that was that. My last best friend was a fellow Air Force wife in Jim's squadron in Altus. After we left for Japan I spoke to her one other time. And just like that she cut me out of her life. (That's often the case with military families: you're either cut off completely because it's easier to make a clean break, or you carry on a lifelong friendship because you've been kindred spirits. I prefer the latter method, but obviously this lady did not.) At the time there was no Facebook, and she didn't want a MySpace, and I don't think she's on Facebook now. I have recently contacted her on Pinterest, but to no avail. In Japan I had really great friends, but again no best friend. But we had couple friends, which was wonderful, and what I truly love. And then we moved back to my hometown, where everything was different.
My point is: I don't have a best friend, outside of Jim and my younger sister. They are the closest people to me. And Jim has a best friend other than me, and my sister has several (and also is 2000+ miles away and is in a different place in her life than I am). I do have several friends with whom I can pick up like no time has been missed. I also have a great many Internet-turned-real life friends with whom I communicate every day or several times per week, but only see once or twice a year (a few who live closer I see more often, but even then it's just every few months). These are my favorite friends: the ones I can hang out with and not worry about whether they still like me.
I have made a few friends here; two were online friends before I moved. I am sort of mourning the loss of my circle of friends in Oklahoma. I had a super great friend who was just a couple of hours away who made an effort to spend time with me. I had an old friend with whom I got to have lunch every couple of weeks and could spend effortless time with whenever I needed it. I had a group of lovely women at my church who reached out to me, cared about me, drank with me, and seemed to genuinely enjoy my company. But I didn't have a best friend there, either. And I wonder if I didn't miss it as much because of the sheer number of people I knew in Oklahoma. And because my life changed so drastically while I lived there (mourning our loss, getting a job, getting a different job, having Eriana, etc. etc. etc.). I really enjoy my few friends here, and one with whom I've been spending extra time is an absolute joy. And I know that when I get a job, and when I get out more, and as we get more settled we will make friends, and I might be jumping the gun, being so sad and desperate six months in. Maybe it's just this time of year, too, that's making me sad.
I guess I don't really have a point, despite loosely making one a couple of paragraphs ago. So. Good talk.
I realized I've discussed this before. Sorry I'm a broken record.
So our Angel's birthday is next week, on Wednesday. Here are some things I am thinking about instead of that, hoping it will pass by with some peace this year, and without too many tears:
-Getting new Internet on Friday, which will hopefully mean better connections.
-Eriana's school Thanksgiving next Wednesday morning.
-Jim's birthday coming up and my Big Plans for his surprise present(s).
-Staying within our grocery budget.
-Eating chocolate daily.
-Trying not to drink too much wine.
-Sleeping at least six hours per night and not waking up in a cold sweat.
-Making new meals for my family.
-Doing homework.
-Job hunting.
-Getting Christmas cards ready to go out after Thanksgiving.
-Planning a Thanksgiving meal for my family.
-Breathing in and out.
-Working out half of this month.
-My little sister's visit next month.
-Playing QuizUp on my phone.
-Getting Christmas presents ready.
-Hanging out with my family.
-Snuggling with Jim.
-Kissing on Eriana.
-Reading books that take me out of my head.
-Focusing on anything else.
See how it's working out so well?
Add to the list: making funny faces and taking forward-facing pictures with my girl.
I thought I scheduled out posts through Monday. Evidently not. Here: look at a picture of my kid.
Princess Spider-Man telling me how she swings from a web.
Sunday we went to some friends' house for dinner and Eriana asked "May I wear my Spider-Man costume?" I told her of course, but she needed to wear clothes under, because I was certain she would want it off super quick. Nope! She wore that thing all night. Funny, funny kid.
The following are real conversations that have taken place in our family:
*************************************
T: How come when she sits by me she sits on my right so I can't eat, but when she sits with you she sits on your left?
J: Because you almost always go around when we're seated.
T: It's because I don't like my back to where people are coming in. I'm suspicious.
J: From all of your time in the service?
T: My time in the CIA.
J: …
T: You don't know. Maybe I'm really 51. I had plastic surgery. I've been married twice before you.
J: … You're so weird.
*************************************
E: Daddy, is potty time.
J: Oh yeah?
E: Potty time; ex-ent. *guitar noise*
(I taught her that.) (Wayne's World forever.)
*************************************
T: I think we should get [my stepdad] a book about Bigfoot, since he's convinced they live up here.
J: Or vampires.
T: Maybe a Twilight box set?
J: That's kind of expensive for a gag gift.
T: True. I don't even have it. I mean, I have the books, but not the movie box set. I also have the books digitally. I don't even have that for Harry Potter.
J: *shakes his head in disappointment*
T: Well, in my defense when I got my Kindle the HP books weren't available as ebooks. And that was at Yokota, when we were *singing* FLUSH WITH CASH!
J: …
T: What? It's from Parks & Rec. They have a toilet full of cash because they're flush with cash.
J: … You're so weird!
*************************************
E: What he doing?
T: Daddy's turning on some music for the puppies to listen to while we're gone
E: And Raisy and Ruby dance? Like this? *dances a little jig*
T: Yep, just like that.
E: No. Puppies don't dance.
T: Maybe not.
*************************************
J: Here, look in the mirror! I see my sweet daughter!
E: Oh, I see my sweet daddy!
*************************************
E: That Daddy's dry cleaning?
T: Yep. I just picked it up.
E: Daddy just forgot his clothes today?
T: Did he?
E: Oh no! He at work with no clothes? He is naked today?
*************************************
E: Mama, the monsters are coming?
T: What? Monsters? Oh no!
E: Yes! Hurry! Go faster!
T: I can't drive faster than the other cars!
E: The monsters are just on top of the car! OH NO!
T: Oh no!
E: What can we do? Oh, the monsters just fell off. We can call the doctor to help them.
*************************************
I love my family.
So I watch a lot of tv. That has been well-documented. But since we cancelled cable I tend to watch very different stuff than I used to. All of this I watch on Netflix or Amazon. We have a computer that hooks up to the tv so I can watch network stuff from their websites on the big screen, but we didn't hook it up when we moved, so I haven't been watching anything current. That means I'm at least one season behind on all of this stuff. Here are some things I've been watching lately*:
-Undeclared: Too short-lived series by Judd Apatow. And a young Charlie Hunnam with his ridiculous actual accent (ridiculous only because after seeing him as Jax Teller it's weird for him to be British).
-Charmed: Oh. Oh, how I loved this show. I was so, so sad that it ended.
-Buffy the Vampire Slayer: Just getting in to this. Love it so far! I wasn't into supernatural/fantasy stuff when it was on the air. Loving it now. Plus: David Boreanaz. I'm always up for some Booth in my life.
-The Vampire Diaries: Because my love of teenager shows never ceases.
-Parks and Recreation: I've seen the whole series several times. I just keep watching the episodes over and over again.
-Sons of Anarchy: Oh, Opie. Oh goodness.
-Supernatural: I'm just now starting to see Sam as Sam and not Dean after being a Gilmore Girls lover for so long. You know, eight seasons into the show.
-Doctor Who: Re-watching everything available for free. Ten is My Doctor. Always and forever. Although Eleven has grown on me for sure.
-Switched at Birth: Haven't caught up on the most current season on Netflix, but I'm loving all of the family stuff on this show. Of course it's a teen tv show, too, so that helps my love.
-New Girl: Oh, Zooey Deschanel. How awesome is she? (Really awesome.) I'd like to be her best friend. If Felicia Day and Rainbow Rowell both pass on the position.
-Freaks and Geeks: Another too short-lived series by Judd Apatow. Why don't his shows do as well as his movies? Also: Dr. Sweets from Bones as a geeky kid? Perfection.
-Bones: Jim and I caught up on the latest season, and as much as I love the show, I'm not thrilled with how it's moving. I really liked the Bones who was oblivious to how the real world worked. Of course being a mom really can change everything.
-Don't Trust the B- in Apartment 23: This show was ridiculous. And I'm kind of glad it got cancelled. But I still watched all of the episodes. Also: Dawson.
-How I Met Your Mother: Still loving this show, even though so many are mixed on it. As long as I get to look at Neil Patrick Harris for a significant amount of time each episode, I'm good.
-Pretty Little Liars: I haven't seen the newest season on Netflix, but I adore this show. Just another teen show to keep me missing my lost youth.
-The Office: I still love this show. I had watched the last season on the NBC website, but I re-watched with Jim because I loved it so much. And I sobbed during the finale both times I watched. I think I'd still sob during subsequent viewings. I still do during Jim and Pam's wedding!
*By lately I mean in the last six months or so… and I haven't watched all seasons of all of these shows in that time frame, lest you think I do nothing but watch tv.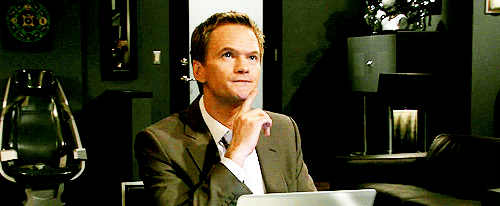 Image from ReactionGIFS.us.
I'm participating in Ginger's Bring Back the Words (BBTW) link-up!
Prompt 2:
If you had a week entirely to yourself with no work and no family obligations…what would you do?
Nothing. I would do as little as possible. I would eat food other people prepare. I would use dishes other people clean up. I would workout on my own time. I would watch a lot of tv. I would read a lot. I would not do housework. I would not pick up dog poop or wipe toddler butts. I would go window shopping. I would go real shopping. I would be drunk the whole time… on power (come on, even without obligations I'm not stupid).
Now. How can we make this happen? Preferably without my having to break my leg.
Construction hat and vest: party favors from a little friend's party last weekend.
Let's be real. My family would have to go away for any of this to happen. Or I would. And what would I do without my favorite crazies around for a whole week?
Some things I've been reading (or re-reading) lately that I think you should too:
What I Do Know: My friend Linnea explains why she knows you can be friends with people with whom you disagree.
At the birthday party of a little friend over the weekend. Budding photographer? 
I'm participating in Ginger's Bring Back the Words (BBTW) link-up!
Prompt 1: Write a post starting with "I used to think…" 
I used to think that I needed a big house, a big car, a big bank account, and a lot of friends to make it in life. I thought I needed to be skinny, perfectly coiffed, and "on" all the time. I used to think if I didn't have those things I couldn't be happy. I couldn't survive, I couldn't possibly have any success.
I used to think my religion should rule my every move and breath, my questions about life and God were irrelevant and without value, and my place was behind a man who would tell me what to do and make me happy all the days of my life. If I couldn't find a man, if I couldn't please God, if I couldn't be a good Christian every day, all day long, I would fail.
I used to think that my life would never take off, that I would never amount to anything, that I would always take a backseat to someone or some thing else.
Now I know that a house should be a happy home, and that how big the house is makes no difference as long as there is love and life there. Now I know that a big car just gets bad gas mileage. Now I know that big bank account is nice to have, but doesn't make or break a good life. Now I know that being skinny is relative and does not necessarily mean good health, being perfectly coiffed impresses only myself, and being "on" can just be exhausting (and annoy others).
Now I know that religion is personal, questions are welcome, valuable, and can drive your faith, and that the right  man can add happiness, but that his happiness does not make or break my own. Now I know that having a partner is better than having a leader, and that standing beside him is much better than standing behind.
My life took off long before I knew. I am valuable, I am intelligent, I am worthy of good things. I am the only one who can choose to take a backseat, and while that is necessary sometimes, it is not a fact of life.
To paraphrase Riki Lindhome: If you don't have your happy ending then it isn't really the end.
When I was pregnant with Eriana I worried I was going to be a terribly attached, helicopter-type parenting. I worried because this was what I did not want to be. Now, if that's your bag, then go for it. But it isn't mine. I wanted Eriana to be independent, to learn who she was and run with it, to understand that she was her own person, and to be a good person who would contribute positively to society. After our experience with loss, I worried a lot about my ability to be hands-off when I needed to be.
Almost three years in to this parenting gig, I'm not sure I'm doing a good job. I mean, okay, I'm a good mom, and I love my child without measure, and she's a well-adjusted, good kid. But as far as not being a helicopter? I'm not sure I'm succeeding. I wonder when it will get easier. If it will get easier.
When Eriana falls I actively have to stop myself from holding her. When I touch her I have to stop myself from holding on. When she is learning I have to stop myself from doing things for her. When she is struggling I have to stop myself from stepping in.
She's been doing this thing  lately where she just wants "one more" hug or kiss before bed. And I know it's just a stall tactic. But my sweet girl can be stingy with physical contact, and choosy about which parent she wants to love on. It's really really hard to resist going back for the 15th hug or kiss when she is crying for it. Especially when she can squeeze out some tears in the situation.
I'm hoping that as she continues to age and become her own person I can resist the urge to step in. But realistically I know that it will be a consistent battle for my lifetime. I love her more than my own life.
I just hope she doesn't grow up and run away too fast!
« previous page
·
next page »