Category Archives: List Lover
What are your favorite apps? I download a lot, but I'm not sure I'm up-to-date on the new, cool stuff (spoiler: I'm not).
Here are some apps I've downloaded lately:
This picture has nothing to do with my apps, I just like it. Eriana has a baby doll that stays at school through the week for nap times, but she has been taking "friends" in the car on the way to school.
What apps are you liking lately?
So our Angel's birthday is next week, on Wednesday. Here are some things I am thinking about instead of that, hoping it will pass by with some peace this year, and without too many tears:
-Getting new Internet on Friday, which will hopefully mean better connections.
-Eriana's school Thanksgiving next Wednesday morning.
-Jim's birthday coming up and my Big Plans for his surprise present(s).
-Staying within our grocery budget.
-Eating chocolate daily.
-Trying not to drink too much wine.
-Sleeping at least six hours per night and not waking up in a cold sweat.
-Making new meals for my family.
-Doing homework.
-Job hunting.
-Getting Christmas cards ready to go out after Thanksgiving.
-Planning a Thanksgiving meal for my family.
-Breathing in and out.
-Working out half of this month.
-My little sister's visit next month.
-Playing QuizUp on my phone.
-Getting Christmas presents ready.
-Hanging out with my family.
-Snuggling with Jim.
-Kissing on Eriana.
-Reading books that take me out of my head.
-Focusing on anything else.
See how it's working out so well?
Add to the list: making funny faces and taking forward-facing pictures with my girl.
So I watch a lot of tv. That has been well-documented. But since we cancelled cable I tend to watch very different stuff than I used to. All of this I watch on Netflix or Amazon. We have a computer that hooks up to the tv so I can watch network stuff from their websites on the big screen, but we didn't hook it up when we moved, so I haven't been watching anything current. That means I'm at least one season behind on all of this stuff. Here are some things I've been watching lately*:
-Undeclared: Too short-lived series by Judd Apatow. And a young Charlie Hunnam with his ridiculous actual accent (ridiculous only because after seeing him as Jax Teller it's weird for him to be British).
-Charmed: Oh. Oh, how I loved this show. I was so, so sad that it ended.
-Buffy the Vampire Slayer: Just getting in to this. Love it so far! I wasn't into supernatural/fantasy stuff when it was on the air. Loving it now. Plus: David Boreanaz. I'm always up for some Booth in my life.
-The Vampire Diaries: Because my love of teenager shows never ceases.
-Parks and Recreation: I've seen the whole series several times. I just keep watching the episodes over and over again.
-Sons of Anarchy: Oh, Opie. Oh goodness.
-Supernatural: I'm just now starting to see Sam as Sam and not Dean after being a Gilmore Girls lover for so long. You know, eight seasons into the show.
-Doctor Who: Re-watching everything available for free. Ten is My Doctor. Always and forever. Although Eleven has grown on me for sure.
-Switched at Birth: Haven't caught up on the most current season on Netflix, but I'm loving all of the family stuff on this show. Of course it's a teen tv show, too, so that helps my love.
-New Girl: Oh, Zooey Deschanel. How awesome is she? (Really awesome.) I'd like to be her best friend. If Felicia Day and Rainbow Rowell both pass on the position.
-Freaks and Geeks: Another too short-lived series by Judd Apatow. Why don't his shows do as well as his movies? Also: Dr. Sweets from Bones as a geeky kid? Perfection.
-Bones: Jim and I caught up on the latest season, and as much as I love the show, I'm not thrilled with how it's moving. I really liked the Bones who was oblivious to how the real world worked. Of course being a mom really can change everything.
-Don't Trust the B- in Apartment 23: This show was ridiculous. And I'm kind of glad it got cancelled. But I still watched all of the episodes. Also: Dawson.
-How I Met Your Mother: Still loving this show, even though so many are mixed on it. As long as I get to look at Neil Patrick Harris for a significant amount of time each episode, I'm good.
-Pretty Little Liars: I haven't seen the newest season on Netflix, but I adore this show. Just another teen show to keep me missing my lost youth.
-The Office: I still love this show. I had watched the last season on the NBC website, but I re-watched with Jim because I loved it so much. And I sobbed during the finale both times I watched. I think I'd still sob during subsequent viewings. I still do during Jim and Pam's wedding!
*By lately I mean in the last six months or so… and I haven't watched all seasons of all of these shows in that time frame, lest you think I do nothing but watch tv.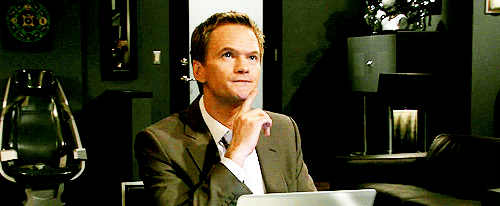 Image from ReactionGIFS.us.
Some things I've been reading (or re-reading) lately that I think you should too:
What I Do Know: My friend Linnea explains why she knows you can be friends with people with whom you disagree.
At the birthday party of a little friend over the weekend. Budding photographer? 
In my 10th anniversary post I mentioned that Jim and I had had 11 cars since we'd gotten married. Since it's only day 7 and I'm running out of stuff to write about, I thought I should talk about the cars I've had (the 11 Jim and I have had plus two that I had pre-Jim, and one I guess I forgot to count in July).
1. 1989 Dodge Shadow. My first car. I named her Will. My dad bought her from a neighbor of my mom. She belonged to his mom, and had only been driven to and from the store and around town in 10 years of ownership. I got a cassette player for her at Christmas that year.
2. 1993 Nissan Sentra. My first self-bought car. I got a terrible deal and cried for days.
3. 2002 Saturn. Our first car together. It was blue. And I let Jim talk me into a standard.
4. 1998 Toyota Camry. My grandfather gave this to us because we needed a car and he had it sitting around in his garage after my grandmother passed away. We later gave it to my little sister.
5. 1998 Toyota 4Runner. I really wanted a 4Runner. Always had. Loved it.
6. Jeep Wrangler (year forgotten). We bought this from a friend, and really liked it, and planned to take it with us when we moved overseas, but then our assignment changed from Guam to Japan, and we decided not to store it. We traded it in when it needed new tires.
7. 2005 Honda Accord Hybrid. We bought this three weeks before we moved to Japan. It was in storage for three years. Like a new car.
8. Japanese blue car. No clue what it was. Bought it off the lemon lot at Yokota.
9. Japanese gray car. See above. But bought it from one of Jim's coworkers who was PCSing.
10. Japanese red box car. LOVED this car. Picture a Suzuki Samurai hard top, but smaller in width, and lower to the ground. It was awesome.
11. Japanese black box car. My favorite, by far. Bought it from a friend. Last car I drove in Japan.
12. 2010 Toyota Prius. We bought this three months after we got back from Japan. Our first new new car. Loved it so much.
13. 2009 Honda Civic. Traded in our Prius for two used cars in March 2012.  This is Jim's commuter car.
14. 2011 Scion xB. The second of the two cars we bought that day. LOVE this car. Not as much as the Prius, and Jim hates it. But I adore it. Reminds me a lot of my favorite car in Japan.
"Driving" Daddy's car. (About a year ago.) This picture reminds me of that commercial where the dad is reminding his teenage daughter about safe driving but all he can see is his little girl. 
I'm participating in Ginger's Bring Back the Words (BBTW) link-up!
Prompt 1:

Let's do an easy, yet complicated one: Day in your life! Pictures or words or both, your choice.
7am: Jim's alarm begins going off, and continues to go off every 10 minutes until after 8 when he actually gets up.
7-7:15-ish: Eriana comes into our room to snuggle with us (usually just Jim), and sings, pets the cats, talks to herself, and basically just keeps us awake.
7:30: My alarm goes off. I get up, grab my glasses, grab my kid, and head to Eriana's room to change her out of her pull-up.
7:45-ish: Eriana finally finishes taking off her pull-up (and rolling it up, because somehow that is super fun) and putting on underwear, and comes to the kitchen to "help" me with her breakfast (which I've already gotten). I set her timer, turn on the tv, and give her her breakfast. Then I get my coffee, and get the coffee pot ready for Jim's coffee.
7:45-8:10-ish: I wash my face, do my makeup, comb my hair, and change clothes (usually into workout clothes).
8:10-ish: I remind Jim of the time, and he gets up to take the dogs out. I hurry Eriana up, make her sit on the potty, then help her pick out her clothes and get dressed (I used to let her do this alone… she does not do well. Usually she ends up reading or dancing around, maybe putting on one or two items of clothing (like her shoes… and nothing else), and then reading or dancing around.) We fix Eriana's hair and brush her teeth, then I finish getting ready.
8:25-ish: Eriana picks out a jacket and takes forever to put it on while I get some coffee to go.
8:30-ish: We hustle out the door because traffic sucks.
8:45-ish: I drop Eriana at school.
From here every weekday differs. Mondays I usually don't do much homework, but I clean the house and grocery shop. My workouts are fairly inconsistent, but my goal every week has been 3 workouts, and my November goal is 4 per week. But generally, at least Tuesday through Friday, this is what I do.
9-ish: I get back home and start on homework (or job applications).
12-ish: I take a break to work out and/or eat lunch, and shower.
1:30-ish: I walk the dogs, go run errands if I have them, or get back to homework.
3:45-4:15-ish: I go pick up Eriana.
4:30-ish: We are home for the evening. We play, watch tv, have a snack, etc.
5:15-5:30-ish: Eriana continues playing, watching tv, whatever, and I start on dinner.
6-ish: Jim comes home. We eat dinner.
6:30-ish: I clean up dinner and the other two play and hang out.
7:10: Bath time, followed by teeth-brushing, milk and snuggles, then books, songs, and lights out around 8 or so. While I sing Jim takes the dogs out for a short run.
For the rest of the evening Jim and I watch tv, read, work on our laptops, etc. We head for bed around 10:30-11, and I'm usually asleep by midnight.
Typed out it seems like sort of a cop out of a non-routine. I'm super blessed that Eriana has a great school and that I can afford (at least right now), to stay home and focus on school work and being a housewife.
My girl looking entirely too grown up before school Tuesday morning. And also very 80s chick in her white turtleneck and tall boots.
Today being the start of November, and the beginning of my attempt to complete NaBloPoMo, I think I'll make a list of 30 of the things for which I'm thankful (for 30 days in November).
Jim.
Eriana.
At the pumpkin patch a few weeks ago. These two have my heart.
3. A roof over our heads.
4. Renters under the roof we own 2000+ miles away.
5. Jim's job.
6. The beauty of fall.
7. Books.
8. My iPhone.
9. My laptop.
10. That I'm about a month away from graduation.
11. Netflix.
12. Amazon Prime.
13. Air travel to bring us family members and friends for visits.
14. Supportive and loving family members.
15. Doctors.
16. The Internet.
17. Cheese.
18. Wine.
19. Maple Leaf Cookies from Trader Joe's.
20. Ikea.
21. Supportive and loving friends.
22. Mexican food.
23. Dark chocolate.
24. Starbucks.
25. Our present financial freedom that allows me to go to school.
26. Target.
27. My car.
28. Oregon.
29. Coffee.
30. A dishwasher.
There are a lot of things for which I'm super thankful. We'll stick with this list for now.
I'm participating in Ginger's Bring Back the Words (BBTW) link-up!
Prompt 2:

Let's hear the top 10 songs from that soundtrack of your life (and the moments they highlight).
1. Peanut Butter by the Marathons. My dad had this song on cassette and we used to beg him to play it over and over again.
2. Wake Me Up Before You Go-Go by Wham!. Oh, this song. It was one of my favorites as a kid. My dad has a blackmail tape of my sister and me dancing around to this song as children. Over and over again. We loved it.
3. "Jesus Freak" by DCTalk. Pretty much encompasses my middle school and early high school years as a religious zealot.
4. "Another Brick in the Wall, Part 2" by Pink Floyd. This song prompted a lot of school-skipping in high school. I loved it. I started listening to classic rock then and I came to love it so much.
5. "Rearviewmirror" by Pearl Jam. My friends in late high school were Pearl Jam freaks, and got me into it. This song sort of explains my running away from the life I knew to make a new one.
6. "Hands and Feet" by Audio Adrenaline. Another bout of Christian rock ruling my music world. I broke all of my secular CDs in half, swearing off all things secular and vowing to make a life as a missionary. Obviously I met that goal. My roommate and I once traveled from Denver to Dallas in two days to see Audio Adrenaline and the Newsboys at a music festival.
7. "Bye Bye Bye" by NSync. NSync held my heart. The same roommate I mentioned above and I decorated the hallway in our apartment with NSync magazine pictures and hung the cds on the wall. We were a little obsessed. I had the biggest crush on Joey Fatone. I was convinced he would marry me.
8. "Irresistible" by Jessica Simpson. I adore Jessica Simpson. I know she's not so cool anymore, and that many preferred Britney or Christina. But I loved Jessica through about 2007. I was so sad when she and Nick broke up.
9. "We Didn't Start the Fire" by Billy Joel. I, very proudly, know every word to this song. I bought tickets to a Billy Joel show in Tokyo in 2008 and kept it a secret from Jim until the day of the concert (I'm terrible at keeping secrets from him). It was a great show (the 20th anniversary of the first time he played in Tokyo or something). Awesome.
10. "Swagga Like Us" by Jay-Z & T.I. Whatever. You know it's awesome. I love hip-hop, and Jay-Z is one of my favorites. This is my go-to song when I need something loud to sing along to in the car. This and "Empire State of Mind."
I'm participating in Ginger's Bring Back the Words (BBTW) link-up!
This week's prompt 1:
Share your top 10 favorite TV shows with us.
Oh my goodness. This is really hard. I watch a LOT of tv. And I LOVE tv.*
But! Top 10:
10. Glee. Okay, so I haven't seen any episodes since the primary cast graduated, largely due to cable restrictions on the Fox website and not having regular tv. But I love love LOVE the show and the characters. The news about Cory Monteith really struck me. So sad. My favorite Glee episode is when Kurt and Blaine first sing together, the Christmas episode, "A Very Glee Christmas."
9. Criminal Minds. Oh, this show. I get stuck in marathons of it then have nightmares for weeks on end. I love it. Dr. Reid is my favorite, but for eye candy I'll take Derek (Shemar Moore) any day of the week. Actually J.J. might be my favorite. Or maybe Garcia. Oh, I don't know. Love. I can't pick a favorite episode because it's KIND of a gross show. But I do like the one where David Rossi reveals why he came back ("Damaged").
8. Seinfeld. I admit I didn't love this show when it was first on. I was a kid, and I didn't get it. A lot of my male friends in high school were OBSESSED with it, but I just couldn't relate. Now, though, I adore it. In adulthood I think I could finally see the appeal, and oh my goodness, I adore it. "The Contest" is probably my favorite, even though it's way inappropriate. I also really really like "The Fusilli Jerry."
7. Sex and the City. Oh, SATC. I will forever adore this show. The first time I saw the unedited versions was a five-day period when I had the flu and took three days off work. We were living in Altus, Jim was in Iraq, and I only left the house (in my pajamas) to go to the video store and rent the next maximum limit of DVDs. I spent five days alternating vomiting, sleeping, and watching this show. And I've loved it ever since. My favorite episode is when Carrie registers for herself. "A Woman's Right to Shoes."
6. How I Met Your Mother. Oh, Barney Stinson. You're the reason I will forever adore NPH. (He isn't on my List because it's unrealistic to put gay men on there, right? Like Will Smith would take me any more than Neil Patrick Harris simply because he is straight?) Although I haven't seen the previous season because we cancelled our cable and it was too much trouble to try to watch shows on regular tv. My favorite episode is "Stuff", simply because Marshall slapping Robot Barney full-force at the end doubles me over with laughter every time.
5. Parks & Rec. I know this is a newer show than the others, but I am in love with this show. It's simply brilliant! "Harvest Festival" is my favorite episode. Li'l Sebastian! And also when Leslie tells Ben she doesn't care, that she just wants to be with him.
4. Doctor Who. Ten is My Doctor, and since I don't have cable I haven't seen the most recent season, but I'm super excited to see how Eleven goes, and to see Twelve as he fills the spot. My favorite episode might be "Silence in the Library" just because it's so clever. And because I adore River Song.
3. Gilmore Girls. I do love this show so very very much. And can (and do) watch it over and over. And over again. My favorite episode is probably "The Lorelais First Day at Yale" with the howling and all. Or maybe "You Jump I Jump, Jack" because it's the beginning of Rory and Logan being Rory and Logan.
2. The Office. Michael Scott is my spirit animal. And if they were real I can't help but know for sure that Pam and Jim would be our best friends. Oh, man. What a great show. My favorite episode is the second half of Jim and Pam's wedding. Ooh, or maybe "The Injury", because it's just so very Michael. Oh, or perhaps "Sabre"! Or maybe "The Search" because of Holly. It's too hard to choose.
1. Friends. I can relate just about anything to an episode of Friends. I love this show more than any other, ever. I don't know if I can choose a favorite episode of this show. "The One with Chandler in a Box"? "The One with the Embryos"? "The One with the Engagement Picture"? Too hard. I love them all. (Oh, and even my non-favorites I don't skip.)
gif from gifs dancing to music on Tumblr.
*I am, BY FAR, not nearly as good of a fan as many of my friends of most of these shows. Probably because I have a really hard time doing one thing at a time, so I've usually got a computer in front of me while I watch tv. This makes for a difficult time absorbing things for long-term retention.
I'm participating in Ginger's Bring Back the Words (BBTW) link-up!
Prompt 2:

Give us your top 10 favorite movies of all time.
10. Spice World (SHUT UP)
9. Forrest Gump
8. My Big, Fat, Greek Wedding
7. Sleepless in Seattle
6. Ever After
5. Clueless
4. You've Got Mail
3. Pitch Perfect
2. Saving Private Ryan
1. That Thing You Do!
Sensing a theme?
gif from Mashable.
next page »